1732 Herman Moll Mapa Mundo A New Map of the Whole World with the Trade Winds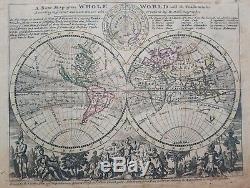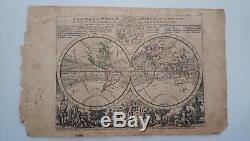 1732 fue un cartógrafo, grabador y editor. Moll se trasladó a Inglaterra en 1678 y abrió una librería de mapas en Londres. A veces realizaba mapas utilizando los estudios procedentes del trabajo de otros cartógrafos.
Moll was probably born in Bremen, Germany, around 1654. He moved to London to escape the Scanian Wars.
His earliest work was as an engraver for Moses Pitt on the production of the English Atlas, a failed work which landed Pitt in debtor's prison. He published his first original maps in the early 1680s and had set up his own shop by the 1690s. Moll's circle included the scientist Robert Hooke, the archaeologist William Stuckley, the authors Jonathan Swift and Daniel Defoe, and the intellectually-gifted pirates William Dampier, Woodes Rogers and William Hacke. From these contacts, Moll gained a great deal of privileged information that was included in his maps. Over the course of his career, he published dozens of geographies, atlases, and histories, not to mention numerous sheet maps.
His most famous works are Atlas Geographus, a monthly magazine that ran from 1708 to 1717, and The World Described (1715-54). He also frequently made maps for books, including those of Dampiers publications and Swifts Gullivers Travels. It is likely that his plates passed to another contemporary, Thomas Bowles, after this death. A New Map of the Whole World with the Trade Winds according to ye latest and most exact observations. Atlas minor: or a new and curious set of sixty-two maps, in which are shewn all the empires, kingdoms, countries, states, in all the known parts of the earth; with their bounds, divisions, chief cities & towns, the whole composed & laid down agreable to modern history.
Lugar y Fecha de Publicación. Pauls Church Yard & John Bowles at the Black Horse in Cornhill, (1732 o 1736). Unos desgarros, pliegues, manchas, el mapa tiene casi 300 años y tiene un envejecimiento normal por este tipo de papel, conservado como se ve en las fotos. Mapa antigua original con líneas pintadas a mano. Of note, California is shown as an island off the coast of North America. Siberia is referred to as "Parts Unknown" and Australia is called New Holland. Depictions of trade winds are shown with shading and arrows. A line marked as "The Zodiack" curves around the equator containing the symbols for the Zodiac signs listed in the Zodiac key. Beneath the two hemispheres, detailed depictions of people surrounding a goddess distributing gifts are shown with armed soldiers at the edge of the crowd and natives armed with bows and arrows at the far sides of the illustrations.
Grabados, Carta Originale, Original Engraving, Incisione Originale, Maps, Map, Copper Plate, Acquaforte, Gravure, Geografia, Mapa geográfico, Carte géographique, Carte Geografica, maps with hand colored outline. The item "1732 Herman Moll Mapa Mundo A New Map of the Whole World with the Trade Winds" is in sale since Tuesday, July 31, 2018.
This item is in the category "Coleccionismo\Acciones y papeles\Papeles y documentos antiguos\Mapas". The seller is "comnetiqua" and is located in Sevilla.
This item can be shipped worldwide.
Año: 1732
Autor: Herman Moll
Tipo: Mapa Original
Titulo: A New Map of the Whole World with the Trade Winds according to ye