1774 James Cook Large Antique Map of The South Seas, Australia, New Zealand etc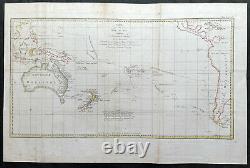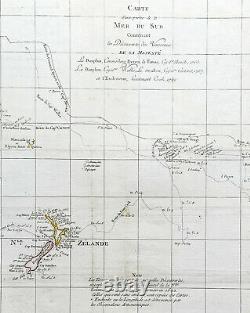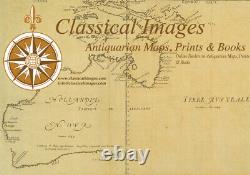 Carte d une Partie de la Mer du Sud Contenant les Decouvertes de Vaisseaux de sa Majeste Le Dauphin, Commodore Byron La Tamar, Capitne. Mouats 1765 Le Dauphin, Capitne.
Cartaret, 1767 et l Endeavour, Lieutenant Cook 1769. 28 1/2in x 18 3/4in (725mm x 475mm).
This large original hand coloured copper-plate engraved antique map, a chart of the voyage tracks of Captain James Cook during his first voyage of discovery of Australia & NZ, and 4 other explorers to the South Seas from 1765 to 1771. It was engraved by Robert Benard and published in the 1774 French translation of John Hawkesworths publication An Account of the Voyages Undertaken by the Order of His Present Majesty for Making Discoveries in the Southern Hemisphere and Successively Performed by Commodore Byron, Captain Wallis, Captain Carteret, and Captain Cook, in the Dolphin, the Swallow, and the Endeavor, Drawn Up from the Journals Which Were Kept by the Several Commanders, and from the Papers of Joseph Banks. 1764-66 - HMS Dolphin under Command of Commodore John Byron, completed the first circumnavigation of the globe under two years. 1766-68 - HMS Dolphin under Command of Captain Samuel Wallis, completed another circumnavigation & was the first European to visit Tahiti & the Society Islands.
1766-68 - HMS Swallow under Command of Captain Philip Carteret, who accompanied HMS Dolphin under the command of Samuel Wallis to circumnavigate the world. 1769-71 - HMS Endeavour, under Command of Lieutenant James Cook (later Captain) completed a the mapping of Tahiti & the Society Islands, New Zealand & the East Coast of Australia.
Paper thickness and quality: - Heavy and stable Paper color : - off white Age of map color: - Early Colors used: - Yellow, brown, pink, red, blue General color appearance: - Authentic Paper size: - 28 1/2in x 18 3/4in (725mm x 475mm) Plate size: - 27in x 15in (685mm x 380mm) Margins: - Min 1in (25mm). Margins: - Folds as issued, light toning along folds Plate area: - Folds as issued, light toning along folds Verso: - Folds as issued, light toning along folds. Background: Commodore John Byron 1723 - 1786 was a British Royal Navy officer and politician. He fought in battles in The Seven Years War and the American Revolution.
He rose to Vice Admiral before his death in 1786. Commanded HMS Tamer on a voyage of discovery with Commodore John Byron between 1764-66. HMS Tamar was a sloop, mounting sixteen guns: ninety men, three lieutenants, and two and twenty petty officers.
Captain Samuel Wallis 1728 - 1795 was a British naval officer and explorer of the Pacific Ocean. Was given the command of HMS Dolphin in 1751 as part of an expedition led by Philip Carteret in the Swallow with an assignment to circumnavigate the globe. Captain Philip Carteret 1733 - 1796 was a British naval officer and explorer who participated in two of the Royal Navys circumnavigation expeditions in 1764-66 and 1766-69. Captain James Cook is considered one of the most talented Surveyors & Map Makers of any age, for Cook, the production of a new chart was his principal reason for going to sea.
His charts were aimed at fellow seamen so he incorporated as much information as possible while employing an economy of style and little elaboration. The quality of his charts can be confirmed by the fact that some survey details from Newfoundland to New Zealand & Australias East Coast could still be safely used over one hundred years later.
His last piece of the New Zealand hydrographic chart was only removed in the 1990s. John Hawkesworth An English writer and journalist, Hawkesworth was commissioned by the British Admiralty to edit for publication the narratives of its officers' circumnavigations.
He was given full access to the journals of the commanders and the freedom to adapt and re-tell them in the first person. Cook was already on his way back from his second Pacific voyage, temporarily docked at Cape Town (South Africa), when he first saw the published volumes: he was mortified and furious to find that Hawkesworth claimed in the introduction that Cook had seen and blessed (with slight corrections) the resulting manuscript.
In his defense, Hawkesworth also had been a victim of misunderstanding. Cook had trouble recognizing himself. Moreover, the work was full of errors and commentary introduced by Hawkesworth and, in Cook's view, too full of Banks, who had promoted himself and the publication. Robert Bénard 1734 - 1777 was an 18th-century French engraver.
Specialized in the technique of engraving, Robert Ménard is mainly famous for having supplied a significant amount of plates (at least 1,800) to the Encyclopédie by Diderot & d Alembert from 1751. Later, publisher Charles-Joseph Panckoucke reused many of his productions to illustrate the works of his catalog. His father was a poor farm labourer who had worked his way up to Overseer. James began as a farm labourer and grocer\\\'s assistant. During the war with the French in 1755, James Cook enlisted as an Able Seaman on the Eagle. Within a month he was promoted, because of outstanding ability, to Masters Mate. Four years later he was promoted to Master. Lawrence River, which made possible the great amphibious assault upon Quebec City in 1759. In 1763 he was given command of the schooner Grenville to survey the eastern coasts of Canada over a four year period. These excellent charts were used up until the early part of the 20th century. James Cook was selected to lead a 1768 expedition to observe the transit of Venus, and to explore new lands in the Pacific Ocean. In his first Pacific voyage, James Cook rounded Cape Horn in the Endeavour and reached Tahiti on 3 June 1769. After recovering a necessary scientific instrument stolen by the natives, the transit of Venus was successfully observed. The Endeavour then spent six months charting New Zealand.
James Cook next explored and claimed possession of eastern Australia. Returning to England, on 12 June 1771, via New Guinea, Java and the Cape of Good Hope, the crew suffered an appalling 43% fatality rate. James Cook thus became very concerned about crew health on subsequent voyages.
The object of Captain Cook\\\'s second Pacific Ocean voyage was to confirm the existence of a theorized Great Southern Continent. Beset by ice, he was unable to reach Antarctica. Although its existence was suspected, James Cook demonstrated, by traversing large areas of the south Pacific, that it would have to be a frigid wasteland, and not an economically productive addition to the British empire. James Cook charted many of the South Pacific islands with the incredible accuracy of 3 miles. This accuracy was made possible by a new and highly accurate clock. The experimental diets and close attention to cleanliness had a miraculous effect: out of a crew of 118, only one man was lost to disease! Since public interest was high, the many paintings by the artists were widely displayed and published as engravings. James Cook was also awarded the Copley Gold Medal and elected as a fellow of the Royal Society.
The third great voyage is especially significant to the history of the west coast of North America. Captain Cook and his men were primarily searching for the Northwest Passage from the Pacific Ocean to the Atlantic Ocean. They departed Plymouth on 12 July 1776 in the Resolution and the Discovery. They continued north along the coast in haste to the Bering Sea and Bering Strait in an attempt to pass through the Arctic Ocean during the summer season.
Soon after they had departed, a storm damaged the foremast of the Resolution and forced a return to Kealakekua Bay for repairs. Unfortunately, they had previously overstayed their welcome and relations became tense. A fight broke out and James Cook was killed on 14 Feb 1779 by angry natives.
Although his men made another attempt at the Northwest Passage, they were unsuccessful. The expedition did identify the possibilities of trade with the coastal American natives for otter seal furs, which could then be bartered for Chinese goods that were highly prized in England. The expedition on the Endeavour initially sailed to Tahiti to observe the transit of the planet Venus in order to calculate the earth\\\'s distance from the sun. Cook landed on the South Pacific island in April of 1769 and in June of that year the astronomical observations were successfully completed.
In addition to these labors, very good relations with the Tahitians were maintained and the naturalists Joseph Banks and Daniel C. Solander conducted extensive ethnological and botanical research. Another purpose of the voyage was to explore the South Seas to determine if an inhabitable continent existed in the mid-latitudes of the Southern Hemisphere. Upon leaving Tahiti, Cook named and charted the Society Islands and then continued southwest to New Zealand. His circumnavigation and exploration of that country also resulted in a detailed survey.
Cook proceeded to Australia, where he charted the eastern coast for 2,000 miles, naming the area New South Wales. As a result of these surveys, both Australia and New Zealand were annexed by Great Britain. The combination of these accomplishments brought Cook prominence, promotion, and the opportunity to lead further expeditions. The purpose was to circumnavigate the globe as far south as possible to confirm the location of a southern continent.
Cook proved that there was no Terra Australis, which supposedly was located between New Zealand and South America. Cook was convinced, however, that there was land beyond the southern ice fields. In his pursuit of this idea, this expedition was the first European voyage to cross the Antarctic Circle. In addition, in two great sweeps through the Southern latitudes, Cook made an incredible number of landfalls including New Zealand, Easter Island, the Marquesas, Tahiti and the Society Islands, the Tonga Islands, the New Hebrides, New Caledonia, and a number of smaller islands.
In addition to these navigational accomplishments and the accompanying expansion of geographical knowledge, the expedition also recorded a vast amount of information regarding the Pacific islands and peoples, proved the value of the chronometer as an instrument for calculating longitude, and improved techniques for preventing scurvy. Following these achievements, Cooks third voyage was organized to seek an efficient route from England to southern and eastern Asia that would not entail rounding the Cape of Good Hope. The search for such a Northwest (or Northeast) Passage had been on the agenda of northern European mariners and merchants since the beginning of European expansion in the late fifteenth century. England\\\'s growing economic and colonial interests in India in the later eighteenth century provided the stimulus for the latest exploration for this route. The expedition then sailed north and made landfall at Christmas Island and the Hawaiian Islands. Cook continued northward and charted the west coast of North America from Northern California as far as the Bering Strait. Upon Cooks death, Clerke took command of the expedition but died six months later. From start to finish, the voyage had lasted more than four years. (Ref Tooley; M&B; Clancy) Please note all items auctioned are genuine, we do not sell reproductions. A Certificate of Authenticity (COA) can be issued on request.
What is an Antique Map. The word Antique in the traditional sense refers to an item that is more than a hundred years old. The majority of antique maps for sale today come from books or atlases and have survived due to the protection offered by the hardback covers.
The first thing to determine when staring a collection or purchasing an item, is what is important to you. Most collectors prefer to build their collections around a theme. You may decide to collect maps from one region or country, charting its development through time. Similarly you could collect maps of one particular period in time, by type i. Sea or celestial charts or by cartographer. The collector might also want to consider the theme of cartographical misconceptions such as California as an island or Australia as Terra Australis or the Great Southern Land. The subject is so wide that any would-be-collector has almost endless possibilities to find his own little niche within the field, and thereby build a rewarding collection. Starting a collection & pricing. Pricing is based on a number of different factors, the most important of which is regional. In any series of maps the most valuable are usually the World Map and the America/North America. The World because it is usually the most decorative and America because it has the strongest regional market. Other factors that come into play re: price is rarity, age, size, historical importance, decorative value (colour) and overall condition and quality of paper it is printed on. As specialised dealers, we frequently work with first time map buyers who are just starting their collection. Classical Images was founded 1998 and has built an excellent reputation for supplying high quality original antiquarian maps, historical atlases, antique books and prints. We carry an extensive inventory of antiquarian collectibles from the 15th to 19th century. Our collection typically includes rare books and decorative antique maps and prints by renowned cartographers, authors and engravers. Specific items not listed may be sourced on request. Classical Images adheres to the Codes of Ethics outlined by the Antiquarian Booksellers Association of America (ABAA). We are a primarily an online based enterprise, however our inventory may be viewed by appointment. This item is in the category "Antiques\Maps, Atlases & Globes\Australia/Oceania Maps". The seller is "searching01" and is located in this country: AU.
This item can be shipped worldwide.
Cartographer/Publisher: Captain James Cook
State/Territory: New South Wales, Queensland
Printing Technique: Copper Plate
Original/Reproduction: Antique Original
Format: Atlas Map
Type: World Atlas
Year: 1774
Date Range: 1700-1799
Country/Region: Australia, Fiji, New Zealand