Finley Map of the World. 1825 A New General Atlas Engraving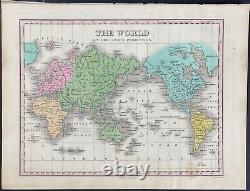 Map of the World on Mercator's Projection. Work: A New General Atlas. Print Style: Engraving with Original Hand-Coloring. Paper Size: 10" by 13 1/2". General Condition: The work is in very good to excellent condition overall. There may be a few minor imperfections or faint marks to be expected with age. This hand-colored map is from Anthony Finley's A New General Atlas, comprising a complete set of maps, representing the grand divisions of the globe? Compiled from the best authorities, and corrected by the most recent discoveries. This is from the second edition of the work published in Philadelphia by the Author in 1825.
It was said of this atlas: The number of elegant maps and atlases which have come from the press within a short time in the United States, is a most flattering proof of increased attention of the community to the important study of geography. The present work contains sixty maps, about half of which are devoted to the American continent, and the remainder to other parts of the world, chiefly to Europe. The engraving is done almost uniformly with remarkable distinctness and the face of the maps is frequently beautiful, not overloaded with a confusion of useless names.
North American Review, July 1824, pp. Guarantee: This print is an original antique print and not a modern reproduction. I guarantee this print to be authentic. Due to its age, some imperfections can be expected.
Please view the detailed photo(s) below carefully. If other arrangements need to be made, please contact me.