MAN OF THE WORLD Magazine 9, Tom Brady, Max Chilton, Jack Pierson, Nick Turner NEW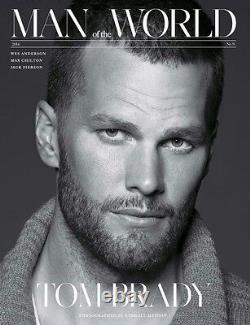 MAN OF THE WORLD Magazine. For our two-year anniversary issue, we decided to go long, drafting Patriots quarterback and future Hall of Famer Tom Brady, Formula One upstart Max Chilton, and celebrated artist Jack Pierson for our covers. There's a boatload of talent on display inside, too. Hugo Guinness catches up with his old pal Wes Anderson as he makes his way through southern Italy by train. Max Blagg probes the mind of horse-mad artist Nick Turner, who works out of a studio deep in the Maine woods. We meet a pair of modern-day adventurers: Daryl Hawk, of the Explorers Club, fresh off a traverse of Ladakh in northern India, and Alex Thomson, the record-breaking yachtsman whose signature move, "the mast walk, " puts other aquatic stunts to shame. We've packed this issue with plenty of heart-stopping collector's pieces, too, from the vintage cars of Heritage Classics in Los Angeles, to the finest time-only dress watches you've ever laid eyes on. As we head into Fall, there's also a heavy dose of inspiring fashion from the menswear world's top photographer and style leaders. Towards the back, we've renovated our Passport section, which dives deep into Paris, the cultural capital in the midst of a modern renaissance. We spent ten days exploring every metric inch of it to help you get the most out of your next journey.
We're biased, it's true, but this just might be our strongest issue yet. MAN OF THE WORLD is a handbook for the modern man, with its DNA inspired by American Heritage.
Like most of us growing up. I really appreciated the appeal of the Hollywood icons of the 1960s and'70s, guys like Steve McQueen. Paul Newman, Robert Redford, and Al Pacino. Product Details : Country of origin: USA. THERE IS A BARCODE ON THE COVER PRINTED BY THE PUBLISHER THAT IS NOT SHOWN ON THE PHOTO. IT IS NOT STICKER PRICE! A VERY THICK & HEAVY MAGAZINE - 2.0 KG. IT WILL BE PACKED PROPERLY USING CARDBOARD/proper box TO PROTECT IT Any question, just ask Thanks for looking.