Map of the World Picture MULTI CANVAS WALL ART Print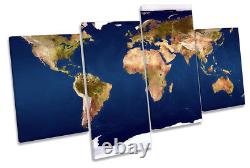 We sell High Quality Canvas Art Prints. Each artwork is printed and framed to order. We print at high resolution, using the latest Ultrachrome Inks ensuring sharp and vivid results every time. The prints are then professionally box framed.
The canvas print is hand-stretched around a wooden frame and then stapled & taped to the rear. You cannot see the frame itself when hung on the wall.
SO THEY ARE READY TO HANG? Yes, each print comes ready to hang straight out of the box. All you'll need is a nail for the wall. To hang we recommend you simply rest the back of the frame on a nail or screw. They are perfectly secure like this and it gets the artwork nice and flush against the wall. WHAT SORT OF CANVAS IS IT? We use 280gsm Poly/Cotton Matt canvas which is specially coated to deliver crisp and vibrant colour with long lasting durability.