New York (Cities of the World)-Deborah Kent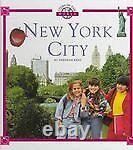 New York (Cities of the World). Used item in a very good condition. At AwesomeBooks we believe that good quality and speed of service is what pleases our customers and according to this we have a product guarantee on all our books. Will be clean, not soiled or stained.
All pages will be present and undamaged. Books will be free of page markings. Some pages may be slightly dog-eared through previous use.
The spine may show some creasing through previous use. Will be completely new and unfolded. Wrapped carefully to prevent damage or curling of book edges.
If you are not happy then neither are we. At AwesomeBooks, we believe our customers should feel free to order any of our products in the knowledge that they can return anything back within 30 days of purchasing an item for any reason. We will not make it awkward, if you want to return something then all you have to do is ask! For defects or problems caused before receipt of an item we offer a freepost return service ensuring that it does not cost you a penny.