Queen 6 LP Vinyl Night at The Opera JAZZ News of the World Works Magic LIVE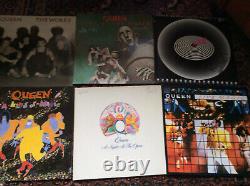 Lps sind gebraucht aber recht gut erhalten... Also Oberflächenkratzer sind vorhanden (keineHänger, aber mit Knistern muss gerechnet werden).
Die Cover haben stärkere Gebrauchsspuren und kleinere BEschädigungen / Beschriftungen. Preisangabe / Rechnung: Der angegebene Preis enthält die Umsatzsteuer. Artikel unterliegt der Differenzbesteuerung nach § 25a UStG. Die im Kaufpreis enthaltene Umsatzsteuer wird in der Rechnung nicht gesondert ausgewiesen.