The End of The World James Barrett (1931) ORIGINAL FIRST EDITION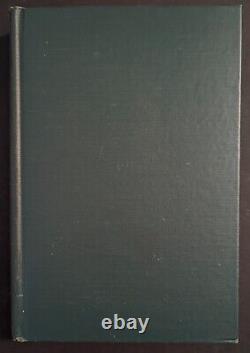 Hardcover/ no DJ, Stated First Edition, "D- F" code (April, 1931), 273 pages, illus. SUBJECT: "The World" newspaper closing. POSSIBLE review copy " for literary reviewers & editors" per laid- in publisher's form letter, which also states publ. Also laid- in is news clipping of apparently contemporaneous book review New York Times? Of this book, by Harry Hansen (a former "World" reviewer).
Both these items are INCLUDED. NOTE: Front free endpaper has neatly penned signature Emanuel R. Google search shows same name as foreign news/ assistant managing editor for N. Times during 1940's-'50's.
IF the same person, he would only have been 20 years old at time of this book's publication. Interesting coincidence, if nothing else. CONDITION: Dark green cloth binding excellent w/ just a trace of wear- tight, clean & square. NO bumps, rubs, fray, sun, etc. Gold spine lettering intact & legible, though a bit tarnished. Rear endpapers have toned patches, where news clipping & letter were found. Text & endpapers otherwise have just a hint of toning; tight, bright, clean, unmarked.
NO hinge splits or cracks, NOT ex library. Very handsome & well preserved copy.