The New World of Transitioned Media Gali Einav 9783319090085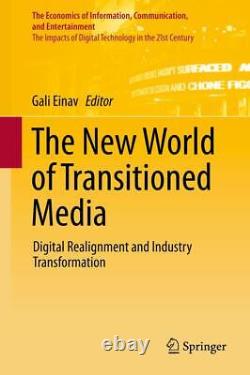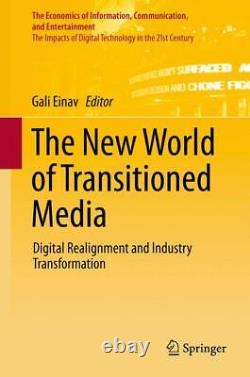 Buchmeister: The New World of Transitioned Media Gali Einav. The New World of Transitioned Media.
Gali Einav - The New World of Transitioned Media. Digital Realignment and Industry Transformation. NEUWARE - Portofrei innerhalb Deutschlands! The media industry is undergoing an accelerated pace of change, driven in large part by the proliferation of digital platforms.
In many cases, the speed of adoption has exceeded our ability to process the impact of these changes on individuals and society at large. This book provides a'behind-the-scenes' look at the media industry's transition into the digital era and examines its impact on marketing, advertising, innovation and other economic and social activities. The impact of digital technologies on traditional media sectors, such as advertising, video games, film and television is well-documented. Less understood is its effect on our perceptions, thought processes and inter-personal relationships. Social media, for example, represents a fundamental change in the ways we interact with media, communicate with each other and even present ourselves to the world.
This has shaped the way we communicate with institutions and brands. Similar to the first'Transitioned Media' book, Transitioned Media: A Turning Point into the Digital Realm, this book combines media industry leaders and academics to explore various transformative trends and issues. Themes include measuring cross-platform behaviour, artificial intelligence in journalism, the evolution of video games, digital media and physical space, the mobile use trends, social media and the corporate world, the changes in the television and newspaper business and the evolving relationship between advertisers and target audiences. The varied backgrounds of contributors and array of topics make for a unique and insightful point of view. Chapter 2 Digital Media and The Transformation of Space.
Chapter 3 The Companies We Keep. Chapter 4 Health as a Social Media. Chapter 5 The New Rules of Engagement. Chapter 6 The Robot Journalist in The Age of Social Physics. Chapter 7 The Times They are A' Changin: From Newspaper to TV, Traditional Go Digital.
Chapter 8 Embracing the Era of Open Source Marketing. Chapter 9 The Role of Mobile in the Media Environment.
Chapter 10 Next Gen Video Game Consumers. Chapter 11 Measuring Media Usage Behavior.
Bitte beachten Sie unsere Kundeninformationen, Datenschutzerklärung und Allgemeine Geschäftsbedingungen, welche Sie in dem Feld "Allgemeine Geschäftsbedingungen für dieses Angebot" finden. This item is in the category "Bücher & Zeitschriften\Bücher".
The seller is "rheinberg-buch-at" and is located in this country: DE. This item can be shipped worldwide.
Verlag: Springer International Publishing
Autor: Gali Einav
Seiten: 168
Gewicht: 424
Einband: Buch
Format: 241x160x15 mm
Sprache: Englisch
Marke: Springer International Publishing
Fachbereich: Hardcover/Sozialwissenschaften, Recht, Wirtschaft/Wirtschaft/B...
Publikationstitel: The New World of Transitioned Media
Erscheinungsjahr: Okt 2014
Produktart: Bücher
Buchtitel: The New World of Transitioned Media
Film-/Fernseh-Titel: Keine Angabe
Publikationsname: The New World of Transitioned Media
Musiktitel: Keine Angabe
Interpret: Keine Angabe
ISBN: 9783319090085