WORKMAN In the Ice World of the Himalaya Karakoram Woman Traveler Mountaineering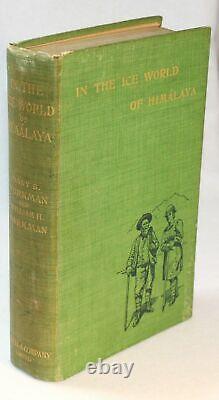 In the Ice World of the Himalaya, Among the Peaks and Passes of Ladakh, Nubra, Suru, and Baltistan. Author: Workman, Fanny Bullock; Workman, William Hunter.
Published: New York; Cassell and Company, [1900]. Condition: Very Good (please see full item description for details). Description: xvi, 204 pp, with three colored folding maps and 67 illustrations from photographs. Original green cloth with illustration of the authors on the front board.
Minor insect damage to front board, spine slightly toned, some foxing to endpapers, else quite sound and clean. The American husband and wife team were wealthy, zealous, and energetic explorers who together made many expeditions to the Himalayas.
Fanny, a suffragist as well as a bit of a publicity hound, made sure the world knew of her achievements as a pioneering female climber. Among other achievements, she held the women's altitude record for 28 years after her conquest of 23,000-ft Pinnacle Peak in 1906. Robinson (Wayward Women) amusingly describes her as having practically battered the Karakorams into submission, first treading them over with her squat, hob-nailed figure and then pinning them down on virgin maps and charts to take home for the various Geographical Societies of England and America to fight over.
This is the account of their first Himalayan expedition, 1898-99, during which they reached the Karakoram Pass and explored the Biafo Glacier (Neate W124). Condition Descriptions Defined: We grade our books and dust jackets using the traditional language of the antiquarian book trade. In brief: Fine is the highest grade and means essentially as new, without visible faults or defects; Near Fine means approaching fine, but with one or more very minor defects or faults, which will be noted; Very Good means the book shows some general (but not too offensive) signs of wear and use, which will be noted; Good means the book is complete and intact, but has more wear or some internal markings. Any ex-library book will be graded no higher than Good, even if it is otherwise a very nice copy. Again, all flaws will be noted.
We rarely offer any books in Fair or Poor condition, but if we do, the reasons for the grade will be evident from the photo(s) and description. Please notify us in advance of any return. About us: Walkabout Books is a member of the Antiquarian Booksellers Association of America (ABAA) and the Independent Online Booksellers Association (IOBA).