World of Wong Kar Wai (the Criterion Collection) Blu-ray NEW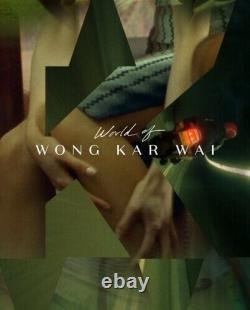 World of Wong Kar Wai (the Criterion Collection) [Blu-ray]. Product Dimensions : 0.7 x 7.5 x 5.4 inches; 1.27 Pounds.
Release date : March 23, 2021. Best Sellers Rank: #463 in Movies & TV (See Top 100 in Movies & TV) #42 in Drama Blu-ray Discs. With his lush and sensual visuals, pitch-perfect soundtracks, and soulful romanticism, Wong Kar Wai has established himself as one of the defining auteurs of contemporary cinema. Joined by such key collaborators as cinematographer Christopher Doyle; editor and production and costume designer William Chang Suk Ping; and actors Tony Leung Chiu Wai and Maggie Cheung Man Yuk, Wong (or WKW, as he is often known) has written and directed films that have enraptured audiences and critics worldwide and inspired countless other filmmakers with their poetic moods and music, narrative and stylistic daring, and potent themes of alienation and memory. Whether theyre tragically romantic, soaked in blood, or quirkily comedic, the seven films collected here are an invitation into the unique and wistful world of a deeply influential artist.
Seven-Blu-ray Special Edition Collectors Set Features New 4K digital restorations of Chungking Express, Fallen Angels, Happy Together, In the Mood for Love and 2046, approved by director Wong Kar Wai, with 5.1 surround DTS-HD Master Audio soundtracks New 4K digital restorations of As Tears Go By and Days of Being Wild, with uncompressed monaural soundtracks New program in which Wong answers questions submitted, at the invitation of the director, by authors André Aciman and Jonathan Lethem; filmmakers Sofia Coppola, Rian Johnson, Lisa Joy, and Chloé Zhao; cinematographers Philippe Le Sourd and Bradford Young; and filmmakers and founders/creative directors of Rodarte Kate and Laura Mulleavy Alternate version of Days of Being Wild featuring different edits of the films prologue and final scenes, on home video for the first time Hua yang de nian hua, a 2000 short film by Wong Extended version of The Hand, a 2004 short film by Wong, available in the U. For the first time Interview and cinema lesson with Wong from the 2001 Cannes Film Festival Three making-of documentaries, featuring interviews with Wong; actors Maggie Cheung Man Yuk, Tony Leung Chiu Wai, Chang Chen, Faye Wong, and Ziyi Zhang; and others Episode of the television series Moving Pictures from 1996 featuring Wong and cinematographer Christopher Doyle Interviews from 2002 and 2005 with Doyle Excerpts from a 1994 British Film Institute audio interview with Cheung on her work in Days of Being Wild Program from 2012 on In the Mood for Loves soundtrack Press conference for In the Mood for Love from the 2000 Toronto International Film Festival Deleted scenes, alternate endings, behind-the-scenes footage, a promo reel, music videos, and trailers Plus: Deluxe packaging, including a perfect- bound, French-fold book featuring lavish photography, an essay by critic John Powers, a directors note, and six collectible art prints as tears go by Wong Kar Wais scintillating debut feature is a kinetic, hypercool crime thriller graced with flashes of the impressionistic, daydream visual style for which he would become renowned. Set amid Hong Kongs ruthless, neon-lit gangland underworld, this operatic saga of ambition, honor, and revenge stars Andy Lau Tak Wah as a small-time mob enforcer who finds himself torn between a burgeoning romance with his ailing cousin (Maggie Cheung Man Yuk, in the first of her iconic collaborations with the director) and his loyalty to his loose- cannon partner in crime (Jacky Cheung Hok Yau), whose reckless attempts to make a name for himself unleash a spiral of violence. Marrying the pulp pleasures of the gritty Hong Kong action drama with hints of the head-rush romanticism Wong would push to intoxicating heights throughout the 1990s, As Tears Go By was a box-office smash that heralded the arrival of one of contemporary cinemas most electrifying talents.
Days of being wild the breakthrough sophomore feature by Wong Kar Wai represents the first full flowering of his swooning signature style. The initial entry in a loosely connected, ongoing cycle that includes In the Mood for Love and 2046, this ravishing existential reverie is a dreamlike drift through the Hong Kong of the 1960s in which a band of wayward twenty somethingsincluding a disaffected playboy (Leslie Cheung Kwok Wing) searching for his birth mother, a lovelorn woman (Maggie Cheung Man Yuk) hopelessly enamored with him, and a policeman (Andy Lau Tak Wah) caught in the middle of their turbulent relationshippull together and push apart in a dance of frustrated desire. Chungking Express the whiplash, double-pronged Chungking Express is one of the defining works of 1990s cinema and the film that made Wong Kar Wai an instant icon. Two heartsick Hong Kong cops (Takeshi Kaneshiro and Tony Leung Chiu Wai), both jilted by ex-lovers, cross paths at the Midnight Express take out food stand, where the ethereal pixie waitress Faye (Faye Wong) works. Anything goes in Wongs gloriously shot and utterly unexpected charmer, which cemented the sex appeal of its gorgeous stars and forever turned canned pineapple and the Mamas & the Papas California Dreamin into tokens of romantic longing.
Fallen Angels Lost souls reach out for human connection amid a glimmering Hong Kong in Wong Kar Wais hallucinatory, neon-soaked nocturne. Originally conceived as a segment of Chungking Express only to spin off on its own woozy axis, Fallen Angels plays like the dark, moody flip side of its predecessor as it charts the subtly interlacing fates of a handful of urban loners, including a coolly detached hit man (Leon Lai Ming) looking to go straight; his business partner (Michelle Reis), who secretly yearns for him; and a mute delinquent (Takeshi Kaneshiro) who wreaks mischief by night.
Swinging between hard-boiled noir and slapstick lunacy with giddy abandon, the film is both a dizzying, dazzling city symphony and a poignant meditation on love, loss, and longing in a metropolis that never sleeps. Happy together one of the most searing romances of the 1990s, Wong Kar Wais emotionally raw, lushly stylized portrait of a relationship in breakdown casts Hong Kong superstars Tony Leung Chiu Wai and Leslie Cheung Kwok Wing as a couple traveling through Argentina and locked in a turbulent cycle of infatuation and destructive jealousy as they break up, make up, and fall apart again and again.
Setting out to depict the dynamics of a queer relationship with empathy and complexity on the cusp of the 1997 handover of Hong Kongwhen the countrys LGBTQ community suddenly faced an uncertain futureWong crafts a feverish look at the life cycle of a love affair that is by turns devastating and deliriously romantic. Shot by ace cinematographer Christopher Doyle in both luminous monochrome and luscious saturated color, Happy Together is an intoxicating exploration of displacement and desire that swoons with the ache and exhilaration of love at its heart-tearing extremes.
In the mood for love Hong Kong, 1962: Chow Mo-Wan (Tony Leung Chiu Wai) and Su Li-Zhen (Maggie Cheung Man Yuk) move into neighboring apartments on the same day. Their encounters are formal and politeuntil a discovery about their spouses creates an intimate bond between them.
At once delicately mannered and visually extravagant, Wong Kar Wais In the Mood for Love is a masterful evocation of romantic longing and fleeting moments. With its aching soundtrack and exquisitely abstract cinematography by Christopher Doyle and Mark Lee Ping Bing, this film has been a major stylistic influence on the past two decades of cinema, and is a milestone in Wongs redoubtable career. 2046 Wong Kar Wais loose sequel to In the Mood for Love combines that films languorous air of romantic longing with a dizzying time-hopping structure and avant-sci-fi twist.
Tony Leung Chiu Wai reprises his role as writer Chow Mo-Wan, whose numerous failed relationships with women who drift in and out of his life (and the one who goes in and out of room 2046, down the hall from his apartment) inspire the delirious futuristic love story he pens. 2046s dazzling fantasy sequences give Wong and two of his key collaboratorscinematographer Christopher Doyle and editor/costume designer/production designer William Chang Suk Pinglicense, to let their imaginations run wild, propelling the sumptuous visuals and operatic emotions skyward toward the sublime.
The item "World of Wong Kar Wai (the Criterion Collection) Blu-ray NEW" is in sale since Wednesday, May 12, 2021. This item is in the category "Movies & TV\DVDs & Blu-ray Discs". The seller is "kolinb" and is located in Champaign, Illinois. This item can be shipped worldwide.
Studio: Format: Blu-ray
MPN: Does not apply
UPC: Does not apply
EAN: Does not apply
Brand: The Criterion Collection
Format: Blu-ray
Genre: Drama